[Editorial Note: I submitted this piece to the weekly Challenge Grid at yeahwrite.me, hence the shiny, new badge. Most of the time you have to compete to get a posting on the grid but this time they abandoned their standards altogether. Lucky me! Go check out some of my company on the grid. Oh, and vote for me. Pretty please.]
The poem I alluded to yesterday remains elusive. The search continues (in my mind, anyway) and will not end until I find it.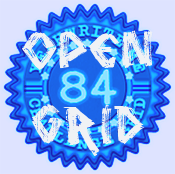 In the meantime, I'll share an excerpt from the larger project I mentioned yesterday. Though no substitute for "The Garbage Disposal," it does lend some insight into how I spend my free time these days when I'm not storming the tennis courts, flirting with death on a jetski, or going on doomed dates.
A few words of context: This nonfiction project of mine will incorporate several classic vignettes from the Yank annals. The one that follows is embedded in a chapter about the volatile plumbing at the house I bought in 2002. (Never have been able to resist a good plumbing story.) This one starts in early 2003 and then detours down memory lane.
_______________________________________________
My sister kindly volunteered to drive over to my house and babysit while Roto-Rooter snaked the pipes to remove whatever was obstructing the main drain.
When I got home later that evening, Lynne told me tree roots were the culprit. Roto-Rooter had put them in a plastic bag and saved them for me in case I wanted to have a look.
There are some items that come out of a dark, unpleasant place, and sentiment or curiosity might drive a person to examine it despite its origins. A child's tooth, for example. Tree roots soaked in my house's waste water neither whetted my curiosity nor tugged at my heartstrings. In fact, the only time I'd ever felt less interested in the bagged- up remains of a household disaster involved an incident in 1997 when my father babysat T.C., the cat I'd just adopted.
Back then, I had signed a lease for an apartment of my own (the driving force behind the cat acquisition) but hadn't moved in so I was still living with my parents. I'd been asked on a date to see "Shear Madness" at the Kennedy Center and hesitated in accepting because I was worried about abandoning T.C. My father volunteered to keep an eye on the cat and shooed me out of the house. At intermission I found a payphone and called home to check in.
"Hey, Dad, it's me. How's T.C. doing?"
His voice was stressed, almost panicked. "Can't talk now, Wheat! I've gotta catch T.C!" Before I had a chance to ask any of the "w" questions, he hung up. I'd used some creative excuses to get out of dates before but couldn't envision begging off due to an unknown cat caper. My rear end stayed planted for the second act. My mind, on the other hand, was elsewhere and I couldn't wait for the final curtain to come down.
When the play ended, I raced home and flung open the side door without noticing the tied-off plastic shopping bag that had been placed right next to it. My father sat on the couch, looking shaken as images of some sporting event flashed on the TV screen in front of him. T.C., by contrast, exuded calm. He sat curled up on the recliner opposite the sofa, eyes barely open and verging on nodding off.
"I'm glad you're home," Dad said. He turned off the TV and told me the story.
Based on his account, I gather that being in an unfamiliar place among unfamiliar people took a toll on T.C.'s nerves and sent his stomach into a tailspin. Soon after I left for my date, my newly adopted cat began to make gulping, gagging noises. Cat owners the world over recognize this uniquely feline sound as the prelude to a hairball. My father had never taken care of a cat so he hadn't heard the prelude before. To his ears, it sounded somewhat like a choking human.
Thanks to the excellent first aid training he received in elementary school, he knew exactly what the situation called for: the Heimlich Maneuver. He lunged for the cat. T.C. had no interest in becoming the first feline to get maneuvered so he went on the lam. With my father in hot pursuit, T.C. ran from room-to-room, pausing every so often to deposit a rust-colored blob.
When the cat tore through the dining room and rounded the corner into the formal living room he gave a great heave and emptied the remaining contents of his stomach onto my mother's prized Oriental rug. After performing this finale, he scampered to the piano bench and hid under it. My father trailed him by a few steps. When he saw the cat under the bench, apparently breathing without incident, he realized T.C.'s crisis had passed. On seeing my mother's rug, Dad understood his own crisis had just begun. He commenced cleanup efforts using a paper towels and a solvent of some sort (Windex, if I had to guess).
As he worked on the crime scene, he bagged up T.C.'s final emission. Since Dad didn't know what it was—his theory involved T.C. choosing to eat litter box fare instead of the dry food I'd left out for him—he assumed I didn't, either. He saved the evidence so I could perform a forensic examination. I demurred but Dad wouldn't rest until I opened the bag and confirmed that the only unapproved substance T.C. had consumed was a massive quantity of fur.
Though that incident had happened five years earlier it was fresh in my mind when my sister handed me the bag from Roto-Rooter.
I didn't care to inspect the chopped up roots whose thirst and impatience led them to look for water in my home's porous terra cotta pipes instead of the earth.
I was just happy to have the problem resolved before the party.
All the balloons and streamers in the world wouldn't have kept fifty guests from noticing if I'd had to station a portable toilet in the front yard.